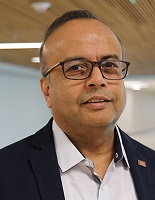 Prof. Prasad Enjeti
Texas A&M University, USA
(Fellow IEEE)
Biodata: Prof. Prasad Enjeti is an American educator and engineer. He is a TI Professor and Associate Dean for Academic Affairs in the Department of Electrical & Computer Engineering at Texas A&M University. Enjeti was born on November 25, 1957 in Chintamani, Karnataka, India; the son of Murthy and Padmavathi (Gummaraju) Enjeti. He received a Bachelor of Science in Electrical Engineering from Osmania University in 1980. Two years later he earned his Master of Science degree in Electrical Engineering from the Indian Institute of Technology Kanpur. Also in 1988, Prasad was given a Doctor of Philosophy degree in Electrical Engineering from Concordia University.

Dr. Prasad Enjeti is a recognized authority in the power electronics industry. As a technical power electronics expert, he can quickly assess case details and prioritize the key points. As an experienced executive, he can provide industry overview and recognize the business implications at hand. Enjeti is the lead developer of the Power Electronics / Power Quality & Fuel Cell Power Conditioning Laboratories at Texas A&M University and is actively involved in many projects with industries while engaged in teaching, research and consulting in the area of power electronics. His research emphasis on industry-based issues has attracted significant funding. So far, 26 PhD and 41 MS students have graduated under his supervision and have spring-boarded into key leadership positions. Dr. Prasad Enjeti is a Fellow of IEEE (year 2000) for "Contributions to solutions of utility interface problems in power electronic systems and harmonic mitigation". He is the inaugural recipient of the R. David Middlebrook Technical Achievement Award from the IEEE Power Electronics Society, 2012. Get more here.
Keynote Speaker II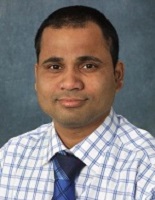 Prof. Bikash C. Pal
Imperial College, London, UK
(IEEE Fellow)
Speech Title: Dynamic Estimation and Control of Power System
Abstract: Electrical generation, transmission and distribution systems all over the world have entered a period of significant renewal and technological change and upgrade. There have been phenomenal changes/deployments in technology of generation driven by the worldwide emphasis on energy from wind and solar as a sustainable solution to our energy need. Model based control design strategy is not as effective now in system operation. Faster estimation of system dynamics, phasor estimation, point of wave estimation are now very useful for time critical monitoring and control of a real-world power networks. The interconnected AC system becoming lighter and lighter because of replacement of centralised synchronous plants with non-synchronous ones. Fast frequency response provision is very vital for keeping the lights on. This is the most credible challenge in smart transmission grid operation today. The reports from some of the recent power grid failures have exposed the inadequacy of control and protection of the network. This keynote will highlight the importance of dynamic estimation and control of power networks for their stable operation. It will discuss both centralised and decentralised options. The speaker will share his research experience in this topic. Future research challenges and opportunities will be highlighted.
Biodata: Prof. Bikash Pal is a Professor of Power Systems at Imperial College London (ICL). He is research active in power system stability, control, and estimation. Currently is leading a six university UK-China research consortium on Resilient Operation of Sustainable Energy Systems (ROSES) as part of EPSRC-NSFC Programme on Sustainable Energy Supply. He led UK-China research consortium project on grid scale storage: Stability and Control of Power Networks with Energy Storage, He also led an UK-India smart grid research consortium project, Reliable and Efficient System for Community Energy Solution – RESCUES. His research is conducted in strategic partnership with ABB, GE Grid Solutions, UK, and National Grid, UK. UK Power Networks. GE commissioned sequel of projects with him to analyse and solve wind farm HVDC grid interaction problems (2013-2019). Prof Pal was the chief technical consultant for a panel of experts appointed by the UNFCCC CDM (United Nations Framework Convention on Climate Change Clean Development Mechanism). He has offered trainings in Chile, Qatar, UAE, Malaysia and India in power system protections, stability and control topics. He has developed and validated a prize winning 68-bus power system model, which now forms a part of IEEE Benchmark Systems as a standard for researchers to validate their innovations in stability analysis and control design. He was the Editor-in-Chief of IEEE Transactions on Sustainable Energy (2012-2017) and Editor-in-Chief of IET Generation, Transmission and Distribution (2005-2012). He is Vice President, PES Publications (2019-). In 2016, his research team won the President's outstanding research team award at Imperial College London (ICL). He is Fellow of IEEE for his contribution to power system stability and control. He is an IEEE Distinguished Lecturer in Power distribution system estimation and control. He was). He has published about 100 papers in IEEE Transactions and IET journals and authored four books in power system modelling, dynamics, estimations and control. Two of his papers in power system stability and control topics have received annual best journal paper award. He was Otto Monsted Professor at Denmark Technical University (DTU) (2019) and Mercator Professor sponsored by German Research Foundation (DFG) at University of Duisburg-Essen in 2011. He worked as faculty at IIT Kanpur, India. He holds a Visiting Professorship at Tsinghua University, China.
Plenary Speaker I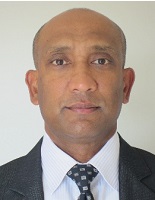 Prof. Udaya Kumara Madawala
The University of Auckland, New Zealand
(Fellow IEEE)
Speech Title: Wireless EV Charging for V2G Applications
Astract: Electric vehicles (EVs) improve air-quality, offer grid services through the vehicle-to-grid (V2G) concept and are ideal for sustainable living. As a result, they are becoming increasingly popular as the means of future transport. For V2G applications, EVs essentially require a bi-directional power interface with the electricity network (grid) to allow for both storing (charging) and retrieval (discharging) of energy, which can be achieved by either wired or wireless means. The latter, based primarily on Inductive Power Transfer (IPT) technology, is more attractive being convenient, safe, and ideal for both stationary and dynamic (while on the move) charging of EVs. This seminar presents trends and the latest advances in grid integration of EVs for V2G applications, highlighting the standards, challenges and future directions. Both wired and wireless technologies are discussed, focusing particularly on the bi-directional wireless power transfer (BD-WPT) technology developed for V2G applications.
Biodata: Udaya K. Madawala graduated with a B.Sc. (Electrical Engineering) (Hons) degree from The University of Moratuwa, Sri Lanka in 1987, and received his PhD (Power Electronics) from The University of Auckland, New Zealand in 1993 as a Commonwealth Doctoral Scholar. At the completion of his PhD, he was employed by Fisher & Paykel Ltd, New Zealand, as a Research and Development Engineer to develop new technologies for motor drives. In 1997 he joined the Department of Electrical and Computer Engineering at The University of Auckland and, at present as a Full Professor, he focuses on a number of power electronics projects related to bi-directional wireless EV charging systems for V2G-H2V applications.

Udaya is a Fellow of the IEEE and a Distinguished Lecturer of the IEEE Power Electronic Society (PELS), and has over 30 years of both industry and research experience in the fields of power electronics and energy. He has served both the IEEE Power Electronics and Industrial Electronics Societies in numerous roles, relating to editorial, advisory, conference, technical committees and chapter activities. Currently, Udaya is an Associate Editor for IEEE Transactions on Power Electronics, and a member of both the Administrative Committee and Membership Development Committee of the IEEE Power Electronics Society. He was the General Chair of the 2nd IEEE Southern Power Electronics Conference (SPEC)- 2016, held in New Zealand, and is also the Chair of SPEC Steering Committee. Udaya, who has over 300 journal and conference publications, holds a number of patents related to wireless power transfer (WPT) and power converters, and is a consultant to industry.